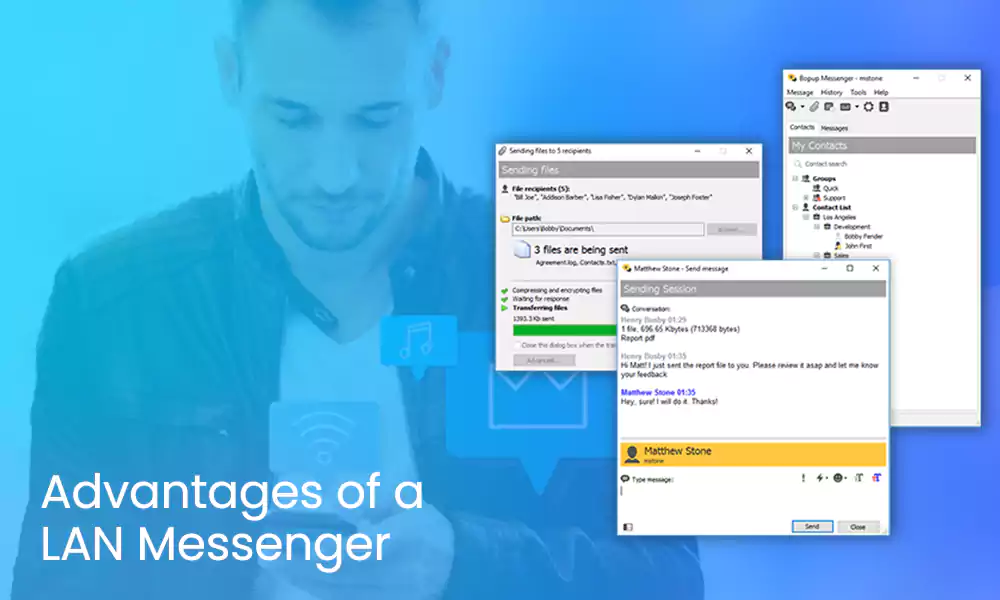 Overview.
Business effectiveness largely depends on the quality and speed of communication: within the team, with customers, suppliers and partners. The most convenient tool for this is the corporate instant messenger. This will help to set up the task, turning into a group chat, to discuss everyday tasks that arise in the company.
What is messenger for local network?
Key Features of Corporate Chat:
Correspondence;
exchange of documents, images, audio and video files;
arranging conferences; remote computer access
Group chat for certain employees only.
A corporate messenger can be an effective solution for a company if it has the following needs:
communication between employees in different locations or departments;
regular meetings with a large number of employees;
The need for quick response to requests, such as operational reporting.
If there is a lot of coordination during the work day, there is a large flow of information, and it is important for each employee to monitor the situation, then a chat app is also useful. Message history will tell you what is the status of communication, what documents need to be sent or when to call.
Pros of Corporate Messengers
Corporate messaging platforms are specifically designed for business use and offer more features than mass-market messaging apps. They provide a high level of data transmission security, typically using the AES protocol. These messaging platforms can be customized to meet the needs of a specific company and managed by the IT department. Additionally, technical issues can be resolved faster by the software provider.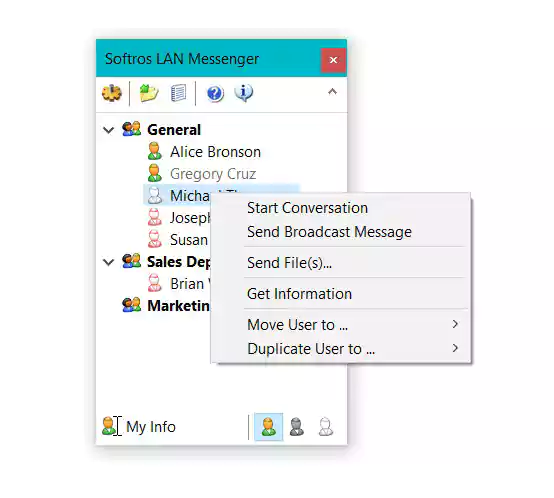 Corporate messengers help in increasing the productivity in the team. Users can set alerts, mark their presence at workplace and not be distracted by personal messages. For example, in Softros LAN Messenger there is a function of showing the status of colleagues: you set the status "do not disturb" during the meeting, and other employees save time and do not try to contact you.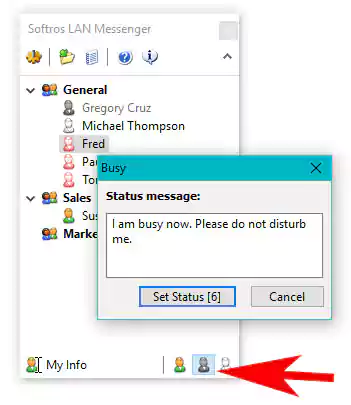 Why shouldn't you use regular messengers?
The servers used for messaging belong to third parties. You have no control over the security of data transmission and access by unauthorized persons. Corporate network programs are successful because the rules within them are set by the owner of the company.
Main disadvantages of public messengers:
– Low file transfer speed, compression and size limits;
– lack of search functionality or inadequate search tools;
– spamming, the inability to disable it;
– distraction in chat with friends, subscription to channels;
– Persistent push notifications on smartphone and computer;
– Personal contacts mixed with work contacts, you may accidentally send a message to the wrong place.
types of messengers
Messengers can be divided into three categories: free, serverless, and client-server. They have both advantages and disadvantages, which are worth considering when choosing.
4.1 Serverless Applications.
These commercial products are: RealPopup, Lancetchat and Softros. All of them are characterized by a closed system: users only see each other and cannot communicate with the "outside world". It is a tool for communication within the team, file transfer and remote access via local network.
Serverless LAN messengers are suitable for networks of up to 100 workstations. They work without Internet access and do not load network traffic. They are also ideal when you need a system of information without feedback (message transmission). For private conversations, this is one of the best solutions, as they don't involve sending messages to friends and other external recipients outside of work.
4.2 Client-Server Applications.
A more complex IT infrastructure requires other solutions, such as a client-server solution. Their "central" client is installed on a remote or local server, and the system runs on a UNIX or Microsoft Windows platform. The server is under the control of the administrator – you will be able to monitor the security of data on the network. The message will reach the correct addressee even if it is not online and the information is persisted on the server. Therefore, for corporate use in contact with partners and customers outside your office, this is one of the suitable types of messengers.
Client-server messengers are installed on the same servers that are used for the day-to-day needs of the company. Therefore, you can connect to the server in almost any way: via a local network, Wi-Fi, mobile Internet or a VPN channel.
4.3 Free Internet messengers.
Popular Internet messengers have the advantage of being fast and cost-effective to implement. They also often rely on cloud servers, which can ensure seamless communication. However, free alternatives such as Viber, Telegram and WhatsApp may be vulnerable to access via phone numbers and may not provide a high level of data transfer security.
One potential disadvantage of using a personal phone for corporate messaging is that it can pose a privacy risk when employees leave the company. Message history and customer contact information may be lost if the employee changes their phone number. Additionally, the company will not have access to the servers and will not be able to monitor employee interactions. This can be a significant drawback, as it limits a company's ability to ensure compliance and protect confidential information.
How to choose a messenger for a company?
Of course, there are products that are popular in a particular environment – for example, Discord and Slack in the IT industry. But a messenger in any case should be evaluated in terms of convenience and functionality. Sometimes, simplicity of the interface and customization for employees who are less proficient in computer programs becomes important.
Before selecting a messenger, make a list of essential tasks. We have prepared a sample list of criteria:
– whether it works within a local network or with an Internet connection;
– whether anonymizer or VPN is needed;
– platform type, multi-platform support;
– Ability to integrate with other services;
– Support for file sharing and documentation.
Depending on the extent of the business, data encryption may be required. In this regard, it is more reliable to use paid products, the license agreement of which requires the protection of information and responsibility for the disclosure of trade secrets. We strongly recommend rejecting free versions of messengers, in which backdoors can be installed to introduce spyware and other possible changes to the application.
How to implement Corporate Messenger?
There are several steps involved in implementing a corporate messenger. First of all, you should determine your criteria for choosing a messenger. Next, you should set up the messenger in trial mode and let a group of employees use it to test its various features. This will help you determine which option best suits your needs. If you're looking for a simpler solution, you might want to consider setting up a local messenger that doesn't require a server.
How to install the program:
1. Download the application form from the website of the program.
2. Calculate the number of users you need: Install the messenger on all the computers and phones where you want to use chat.
3. Ask each employee to fill in their name, position and department.
4. Draw up instructions and train employees on the rules of correspondence and sending files over the network (usually these actions do not cause difficulties for those who have already used instant messengers)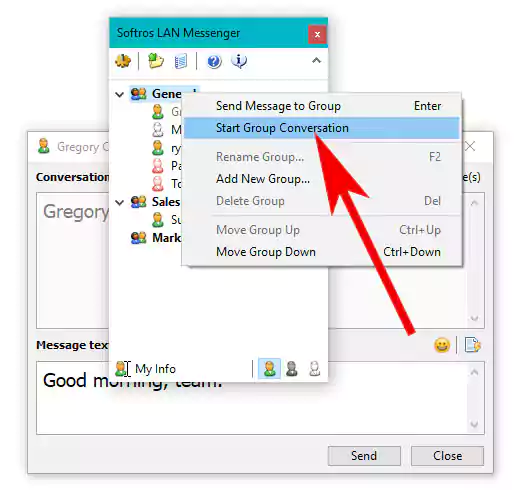 5. Create chats for projects and portfolios
6. Configure access rights for team members who do not need certain Messenger functions (sending files or messages, remote access)
conclusion
A corporate messenger can improve communication within your team and optimize your work processes. Paid options are worth considering as they often offer better security for your data. Customization is also key, so be sure to choose a messenger that can be tailored to your company's specific needs. Don't forget to try Messenger during a trial period, if available, to make sure it meets your needs.
---