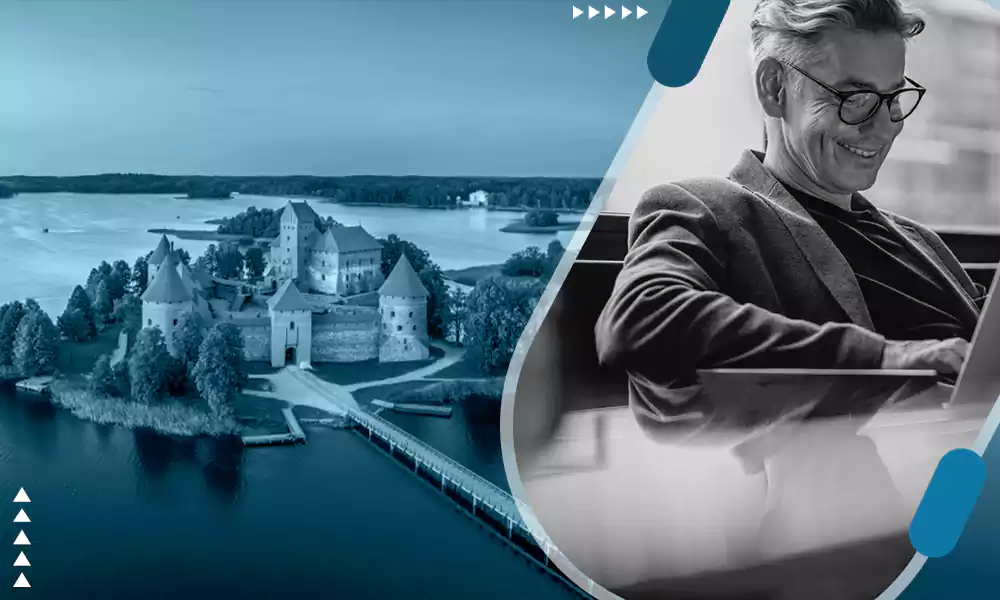 Starting a successful business requires analysis of some basic business plans and strategies capable of ensuring business growth and development. One of these is business location analysis, which involves comparing different location attributes to reach the goals and objectives of a business.
As a result, international entrepreneurs and businesses that wish to expand or start productive businesses begin to take an interest in European countries, especially the Baltic countries, which are attractive for economic reasons and the well-being of their businesses.
In this article, you will understand why you should consider Lithuania as the best option and why it stands out among other nearest countries.
Top 5 Reasons to Start a Business in Lithuania
Below are the top 5 reasons why you should consider Lithuania as a suitable location for your start-up business:
business oriented government
The government of Lithuania was heavily involved in the development of businesses, the creation of investment-friendly opportunities, and the provision of opportunities for foreign enterprises, investors, and entrepreneurs to reside in the country. Therefore, foreign investors or entrepreneurs can contribute to the management of an existing legal entity or set up a new one, which may take a few days to register.
In addition, the Lithuanian government has strengthened energy infrastructure, transportation infrastructure, sustainability and other infrastructure facilities that enable the smooth operation and growth of businesses within and outside the country.
Standard international airport and other transportation infrastructure
Transportation is one of the most important factors that contribute to the growth of a business. In that case, Lithuania provides smooth and standard transportation and facilities to the investors. It also provides opportunities for foreign investors to access various reliable, fast and quality transport infrastructure including road, railways, airways and waterways:
Street:
Lithuania road transport is reliable and includes some basic transport facilities. If you want to transport your products from one place to another by van, it is easy and fast. In addition, you can also partner with car-sharing companies such as CityBee, Spark Electric Vehicles, and more.
International Airport:
Lithuania has 3 standard international airports in Vilnius, Palanga and Kaunas. As a result, you can reach various European cities within 2-3 hours.
Waterways:
One of the notable ports in Lithuania is the Port of Klaipėda, which is the second largest European Union port. It connects to Germany, Sweden, Denmark and other European countries.
railway:
Lithuania has developed modern and standard railways that can help you connect with Russia, Belarus, Poland, Ukraine, Italy, Germany and other neighboring countries. You can transport your luggage to these countries by train without any stress.
no double taxation
Double taxation is the process when the same source of income is taxed at two different levels. Simply put, it involves the process of paying taxes imposed on products or income by a person or company in two countries.
However, some countries such as Lithuania have signed double taxation treaties to avoid double taxation with essential nations. Therefore, setting up a business in Lithuania will allow you to avoid paying dividends with taxes to the two countries in agreement with Lithuania.
Furthermore, Lithuania operates with low income tax rates. The corporate tax rate is 15%, but if you operate a small company, you need to pay only 5% or a lower rate of 0% if you meet certain conditions.
business accounting firms
Another advantage of Lithuania for start-up businesses is the rise of business accounting firms. As an entrepreneur who wants to set up a successful business in Lithuania, you need the help of Professional Business Accounting Services To guide and advise you as an expert in basic accounting tips and strategies. These companies can also help you handle your business accounting.
the most important, Start Business Company, whose specialty is helping start-up businesses keep their business accounts in good shape. However, one advantage of using accounting firms instead of hiring a permanent accountant is the optimization of company expenses. You pay accounting companies every month based on the work done, not as an accountant; You have to make a fixed payment every month.
Communications
Communication is one of the strongest tools for business growth. It helps brands to display consistent messaging to their target audience and promotes synergy between employers and employees. However, if you do not understand Lithuanian, you can communicate with your target audience in English, Russian, Polish and other foreign languages.
Eurostat data proved that approximately 95.6% of Lithuanians speak one or more foreign languages. As a result, language may not be a barrier to setting up business in Lithuania.
Best Cities for Start-up Businesses in Lithuania
Some cities in Lithuania are best suited for start-up businesses due to their better infrastructure and some other facilities available; This includes:
Vilnius City
Vilnius is the capital of Lithuania, located in the southeastern part of the country. Currently, it is considered the largest city in the Baltic states with a population of 625,349. Vilnius has a well-developed infrastructure and service sector, which makes commuting easy and fast.
Furthermore, according to the Financial Times' FDI ranking, Vilnius is ranked among the top 30 cities suitable for a tech start-up and attracting foreign investment. Furthermore, with respect to work-life balance, Vilnius is ranked among the top six cities according to (OECD). Furthermore, the cost of living in Vilnius is bearable.
klaipeda
Klaipėda is another major city in Lithuania, located in the western part of the country on the Baltic Sea coast. It is also known as the third longest port and major port of Lithuania, connecting Germany, Poland, Sweden, Finland, Russia and other neighboring countries.
The Port of Klaipėda, an important transport hub, has made Klaipėda one of the most influential European cities. Most importantly, foreign investors whose products are good at sea transportation can settle in Klaipėda to connect with other Baltic states. Furthermore, Klaipeda is currently a strong location to supply oil and gas to the country, attracting oil and gas industries.
Kaunas
Kaunas is the second largest city in Lithuania after Vilnius. It was a temporary capital of Lithuania between 1920 and 1929 when Vilnius was annexed from Lithuania by Poland. Since the passage of time, Kaunas has been known as the most important center of industry, trade and commerce in Lithuania. It is rapidly expanding industries such as textile and light industry, chemical industry, food and beverage industry, wood processing and furniture industry etc.
The city is attracting European attention, and it serves as a settlement for foreign investors throughout Europe, including the United States.
conclusion
Finally, there are many reasons why Lithuania might be perfect for your start-up business, the article explains 5 good reasons thoroughly. However, if you are facing challenges in your start-up business or you need some advice on setting up a successful business in Lithuania, you can consult start business company for help.
---